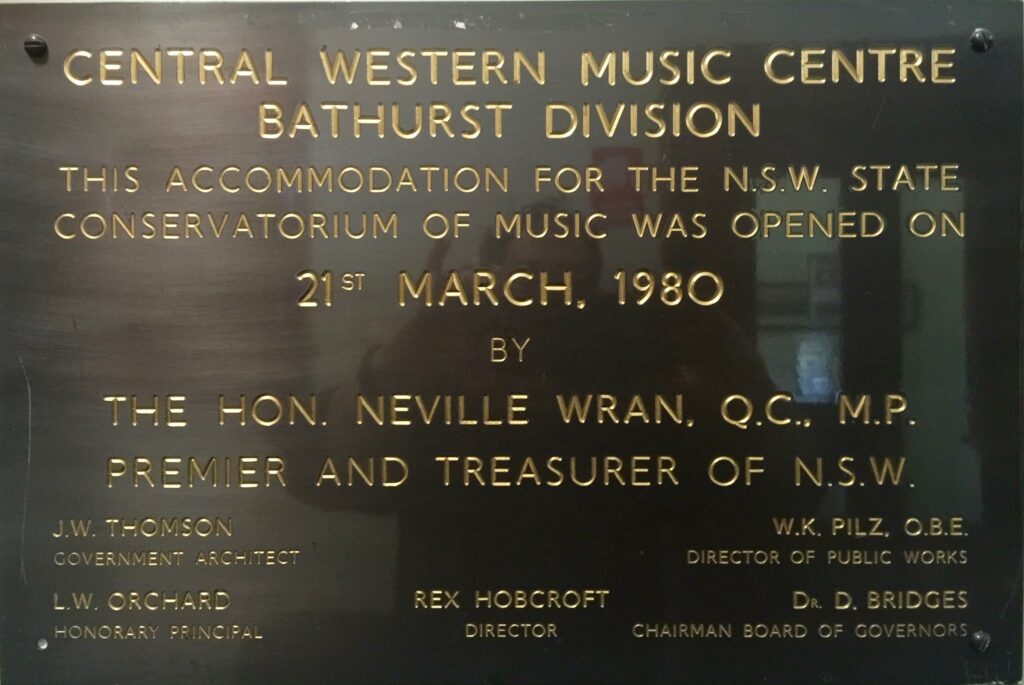 Mitchell Conservatorium began operations as the state's first regional, community-based, music centre – the Central Western Music Centre, in May 1978
As a division of the NSW State Conservatorium of Music, it operated in Bathurst and Orange.
The initial enrolments for Bathurst and Orange were 90 students, with six teachers, and this increased to almost 250 students and eleven teachers by the final term of that year. Piano, singing, violin, brass, clarinet, flute, classical guitar and musicianship were the major subjects offered. Six months later there were almost 500 students with 28 part-time staff at the combined locations. Further expansion occurred across the Central West region during the 1980s, with branches opening in Lithgow (1981) and Forbes (1984). Student numbers consequently grew to over 1000, and staff to almost 50, by 1986; with individual lessons provided in almost the complete range of string, woodwind, brass and percussion instruments, piano and singing, along with recorder, accordian, pipe organ, chamber music groups, children' s choir and classes in early childhood music. In 1996 the Orange Music Centre became independent, In 2013 we celebrated our 35th birthday, and in 2014 we opened studios in Parkes. Since our inception Mitchell Conservatorium has had only four CEOs, with Laurie Orchard at the helm from 1978 – 1987, Max Reeder  1987 – 2004, Fiona Thompson – 2005 – 2013, Graham Sattler, 2014 – 2021, and our current Executive Director, Andrew Smith.
Mitchell Conservatorium is a proud and founding member of the Association of NSW Regional Conservatoriums, the peak body for music education in non-metropolitan New South Wales.