Associate Director, Head of Woodwind Studies
Flute, Clarinet and Saxophone
Bathurst and Lithgow campuses
Phil Braithwaite began his musical education at the Christchurch School of Instrumental Music, as a participant in New Zealand's inaugural Suzuki Method program. As a school-aged pupil, Phil studied Violin, Recorder, Piano, Voice and Clarinet before settling on the flute as his main instrument and obtaining his L.T.C.L. Diploma at the age of 16. Phil went on to study with Roger Buckton and Rolf Just (University of Canterbury, New Zealand) and after arriving in Australia continued with Prue Page, Toshio Takahashi (Suzuki Method) and Linda Vogt.
After a varied careers in set building and construction Phil became the National Sales Manager at the Flute Tree(Woodwind Group Pty Ltd) in 1994, where he also trained as a repair technician.
Since 2005 Phil has been based at the Mitchell Conservatorium in Bathurst, teaching flute, woodwind instruments, directing school bands and performing across a range of genres. He has been a member of a number of orchestras, chamber music ensembles and other groups and appears regularly as a soloist and ensemble member in the Blue Mountains and Central West.
In 2014 Phil became Associate Director of Mitchell Conservatorium where he contines to work towards ensuring a vibrant future for regional conservatoriums in Western NSW.

Clarinet, Saxophone and Flute
Bathurst campus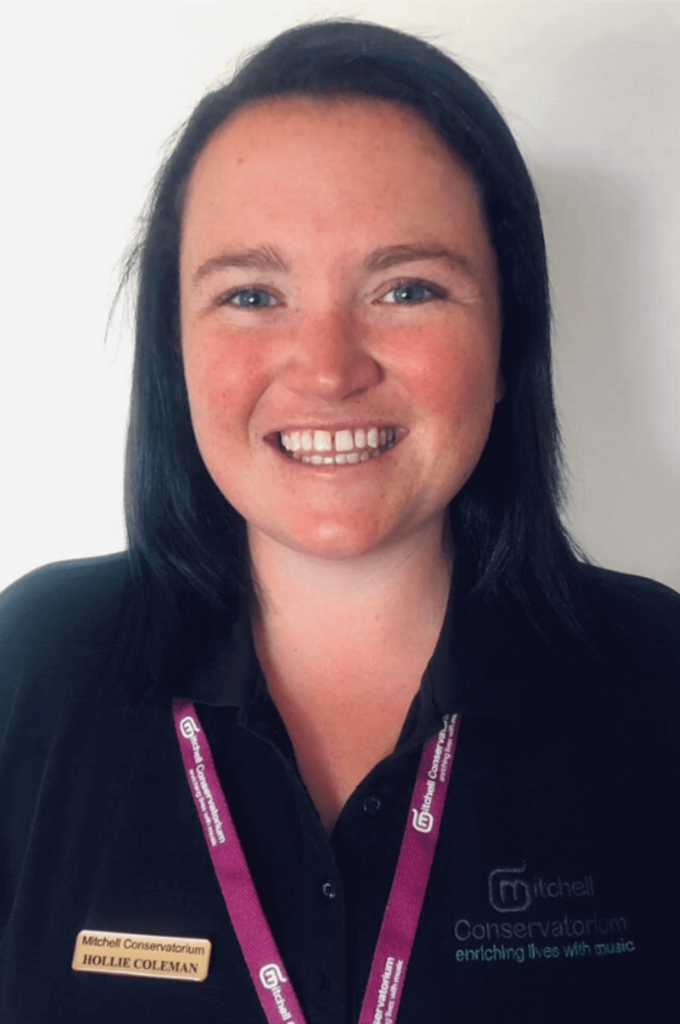 Hollie Coleman has been involved in music since she was 6 years old when she started playing the Recorder. She then began learning Clarinet which she has been playing since the age of 8. During this time she has completed Trinity and AMEB exams including her ATCL Recital Diploma in 2005. She attended the University of Newcastle Conservatorium in 2008 where she started her Bachelor of Music degree. Upon returning to Bathurst in 2009 Hollie joined the staff at MitCon and has continued her studies by distance education since 2010. After taking some time off studying while having her 2 children she successfully completed her Bachelor of Music degree majoring in Clarinet in 2016. She also completed the Jerry Nowak Conducting Course in 2010 which she found to be one of the most rewarding educational experiences she has had.
Hollie learnt Flute, Saxophone and Oboe while in High School and a few years ago decided to learn Trumpet for a little while. Hollie's love and passion for music and performing is evidenced in the many shows that she has been involved in, such as the Carillon Theatrical Society productions both on stage and in the orchestra. She has performed in many community ensembles over the years including the Bathurst City and RSL Concert Bands, CTS Show Band, Macquarie Philharmonia, and in High School with Swing Factor.
Hollie also loves conducting and had a very exciting opportunity in 2014 when she conducted the Bathurst Chamber Orchestra accompanying the amazing flautist Jane Rutter. Hollie loves teaching and hopes to inspire her students and continue developing her performance and teaching career.

Flute
Kinross-Wolaroi School
Karin Hentschel holds ASCM, A.Mus.A and L.Mus.A diplomas.
She has many years of experience successfully teaching flute at all levels from beginner to advanced in the school environment including at the Ascham School and Barker College.
Karin has prepared many students successfully for AMEB, Trinity College and HSC examinations.
Karin has also recorded for SBS radio and television.

Saxophone, Clarinet and Flute
Bathurst campus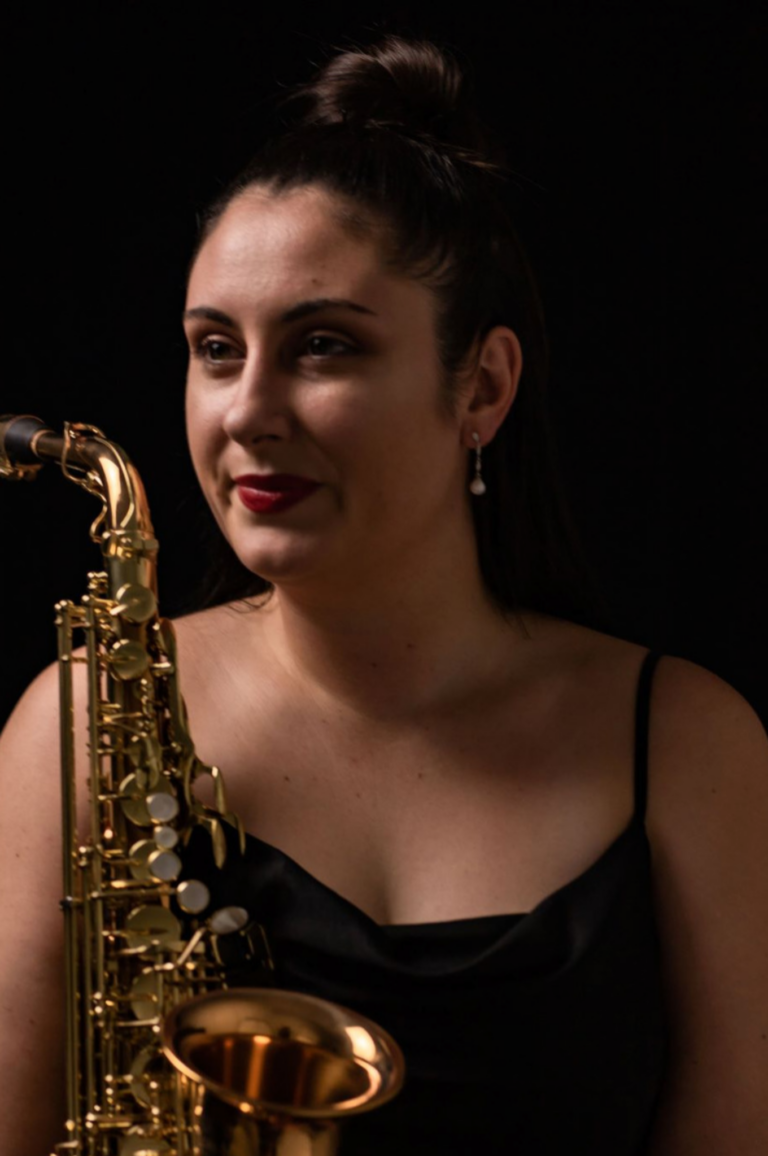 Kait discovered her passion for music very quickly after being given the opportunity to play saxophone in her local high school and community band programs, further participating in the Western Region and State Bands, workshops and camps throughout her highschool career.
 In 2011 she toured in America with the West of the Divide Wind Ensemble before undergoing a BMus in 2013 at the Conservatorium of Newcastle, majoring in performance for both jazz and classical saxophone. She moved to Seoul, South Korea in 2018 to teach English as a second language before coming back to Australia in 2021 to complete her MBus in Digital Marketing and start a MTeach (Secondary) in Music.
Giving students the opportunity to belong and build their music and collaborative skills in a fun environment is something Kait is excited to be involved in at Bathurst Mitchell Conservatorium as she draws on her own experience with band programs. She currently plays in a number of bands including the Tin Roof Big Band, The Connections Big Band, Bathurst Stage Band and Bathurst City and RSL Concert Band.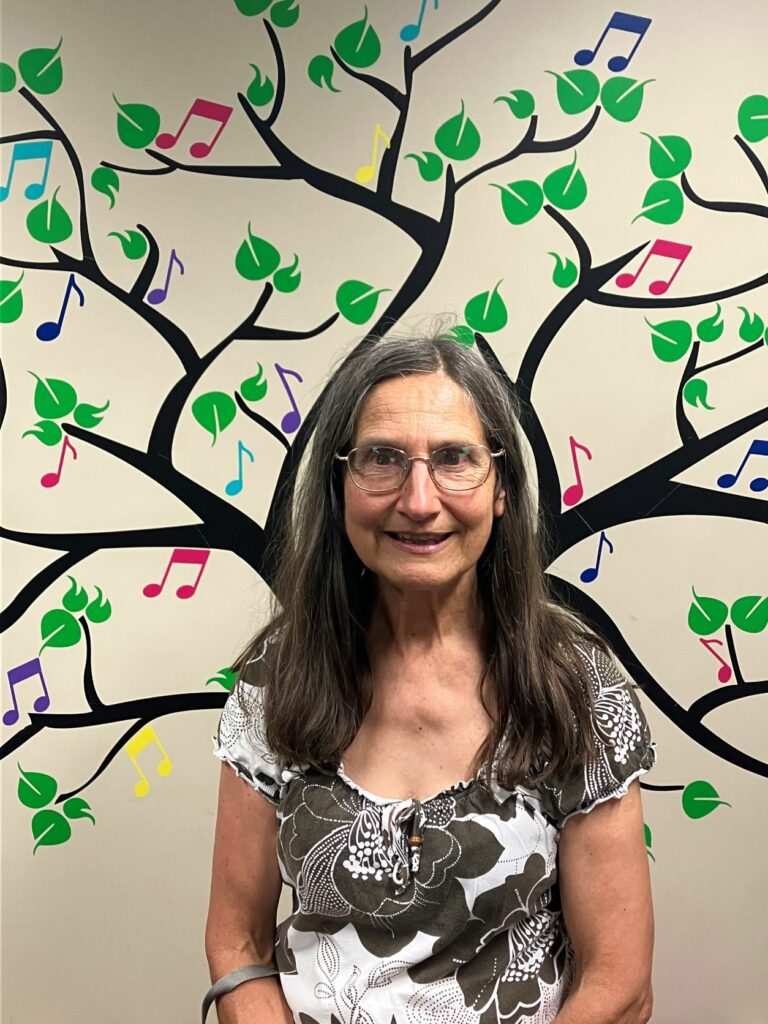 Anna trained in Germany mainly in the Orff-Schulwerk approach and has been teaching at Mitchell Conservatorium in Bathurst since 1992. She initiated Early Childhood Classes at our Lithgow Division for 3 to 9 year olds in 1995, including tuned percussion and recorder. She has prepared children for instrumental demonstration concerts. Anna completed her Bachelor of Education (Primary) at the University of New England in 2003.
Anna teaches recorder and classical guitar and is the Director of Mitchell Conservatorium's Recorder Ensemble.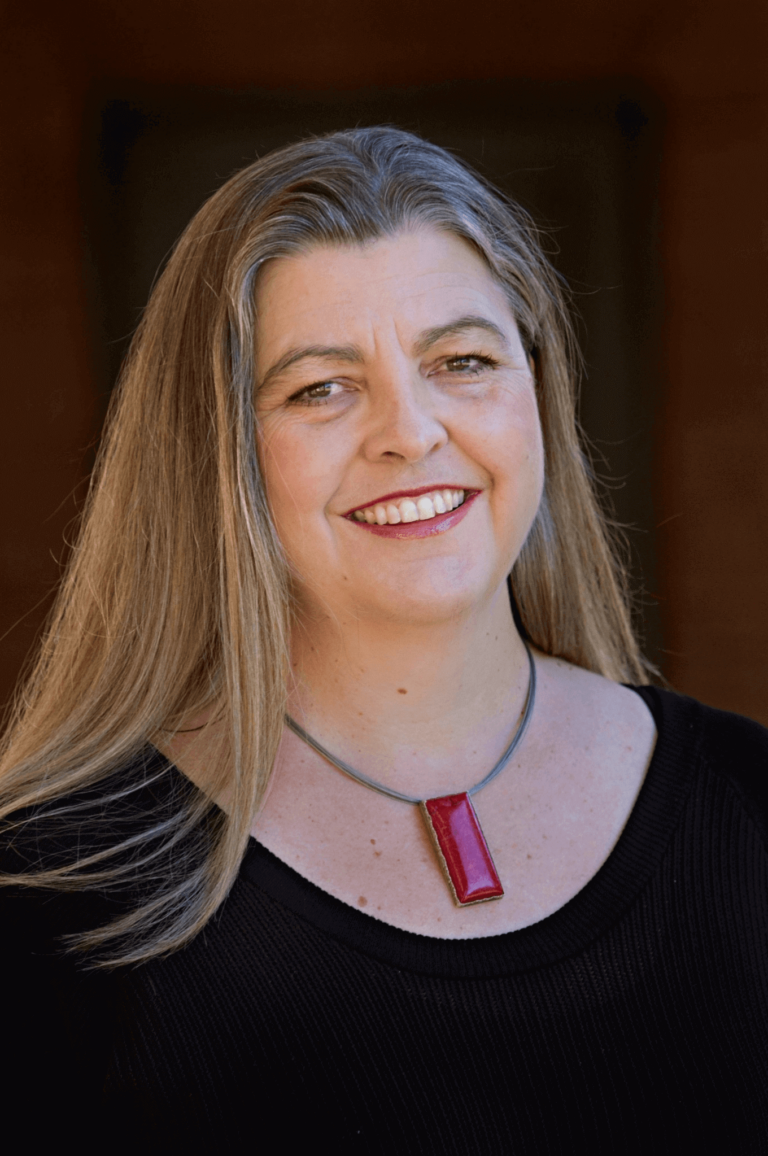 Teaching the flute at the Mitchell Conservatorium since 2007, Samantha completed a Bachelor of Music Performance at the Western Australian Conservatorium of Music with Richard Gill(OAM) as Dean in 1991.
During her time in Perth she performed with the West Australian Symphony Orchestra. In 1995, she was accepted into the Franz Liszt Hochschule für Musik in Weimar, Germany, to complete further studies with Professor Robert Winn, former Principal Flautist of the Royal Philharmonic Orchestra, London.
In 1997, Samantha moved to Berlin to study Music Therapy at the Insitut für Musiktherapie. On returning to Australia in 2004, she decided to combine her experience as a music therapist with music education and completed a Diploma in Secondary Education.
Between 2007 -2017  she worked as a classroom music specialist in the Blue Mountains with the Department of Education, teaching recorder ensembles across a number of schools in the Blue Mountains, as well as conducting choir and school band programs.
In 2016, Samantha was invited to become a mentor for the National Music Teachers Mentoring Program under the auspice of the late Richard Gill (OAM). A major highlight for Samantha during her employment with the Education Department, was to be invited to conduct 700 recorders for the Festival of Instrumental Music at the Sydney Opera House in 2014 and 2015.
Presently, Samantha divides her time between teaching flute and recorder at the Mitchell Conservatorium and being employed as a Registered Music Therapist (RMT) in South West Sydney, supporting vulnerable families and children and providing professional development in the early childhood sector. Further to this, Samantha specialises in early intervention supporting neuro-divergent children and children with disabilites 0-12yrs.

Band, Woodwind, Brass, Piano and Bass Guitar
Lithgow Campus and LGA
Gaye's musical studies began at an early age with piano, brass and recorder lessons. In high school she studied flute, saxophone and clarinet. She studied classical flute at tertiary level at the NSW Conservatorium of Music with Jane Rutter. Since then she has followed her passion for Latin music, performing and recording Brazilian, Latin American Folk, Tango, and more recently flamenco music.
Her extensive teaching experience includes Queensland Conservatorium of Music (Mackay), Mitchell Conservatorium (Bathurst), state and private schools as well as her home studio. She is currently teaching flute at Thomas Hassall Anglican College and at St Patrick's School in Lithgow. From Term 3 2023, Gaye will teach in the Lithgow Small Schools program.
In addition to teaching and performing, Gaye was artistic director of a recent successful concert series in the Blue Mountains featuring local and internationally acclaimed artists.

Flute and Saxophone
Forbes campus
James Whalan teaches voice, guitar, flute and saxophone at the Forbes campus of the Mitchell Conservatorium.