UPCOMING CONCERTS AND EVENTS
Coming up – don't miss it!
2023 Carols by Candlelight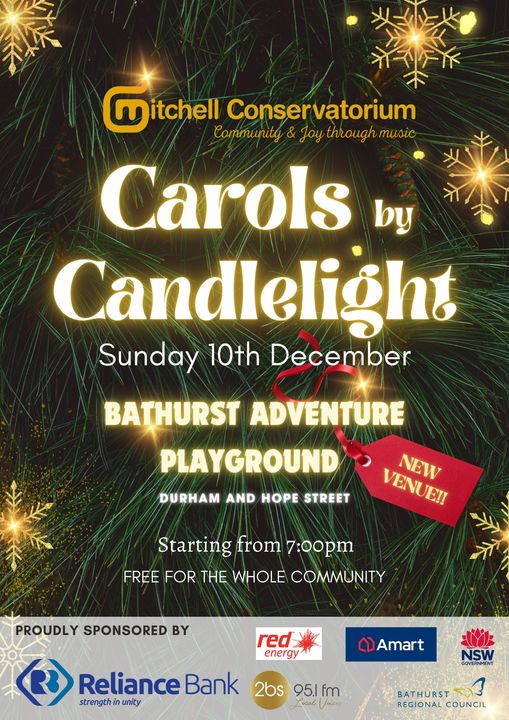 2023 Concerto & Aria Showcase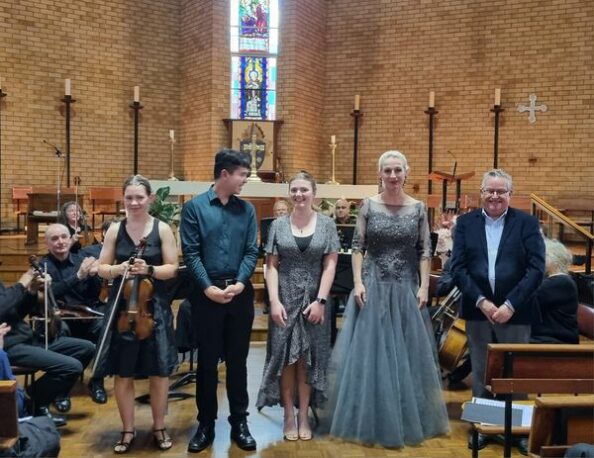 Despite intermittent rain and some impressive thunder, about 50 music lovers came along to All Saints' Cathedral on Sunday 26th November to hear the Mitchell Conservatorium's Concerto & Aria Showcase. Featuring the Bathurst Chamber Orchestra and its conductor David Hood, the program showcased the instrumental and vocal skills of five MitCon students: Sophie Lindsay (violin), Bprem Zakaria (baritone), Josephine Smith (trumpet), Janelle Lindsay (mezzo-soprano) and Robert Saville (piano) (all pictured), performing arias and concerto movements from works by Bach, Bellini, Mozart, Gluck and Telemann.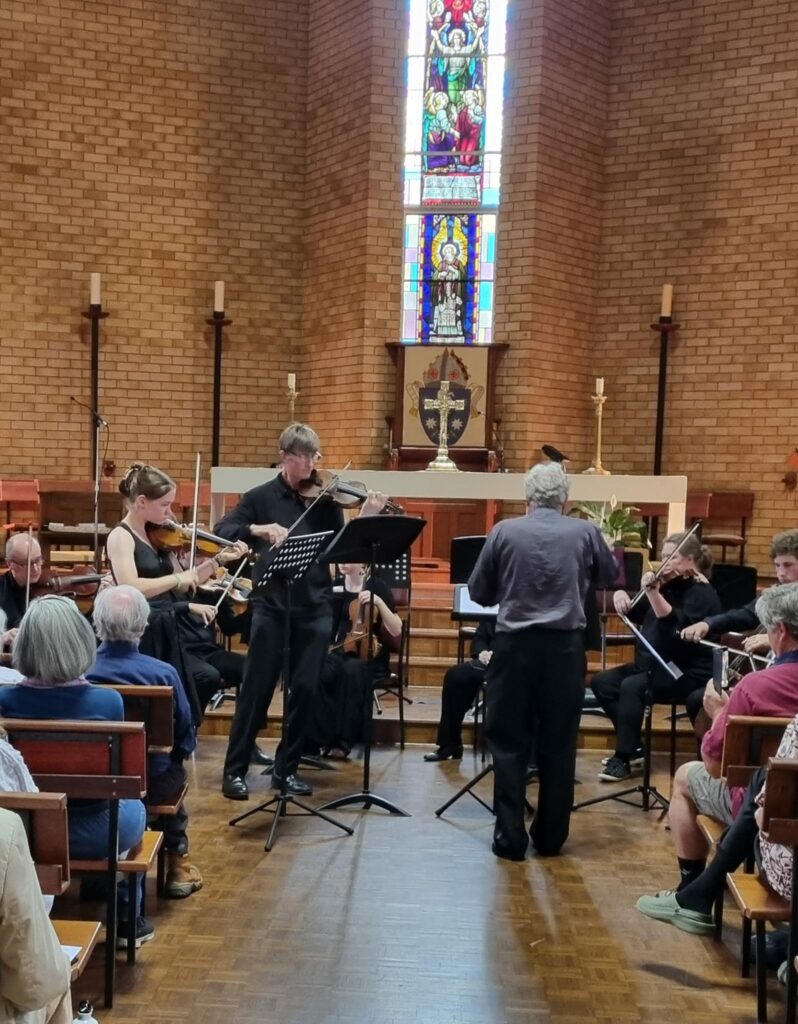 Also featured was MitCon violin and viola teacher and orchestra concertmaster Nicholas Newell (pictured with Sophie Lindsay) in a moving and spirited rendition of Telemann's justly famous viola concerto. Nicholas was later joined by associate concertmaster Bruce McGarity as the soli violinists in Handel's Concerto Grosso in G major.
The orchestra also played the Andante movement from Elgar's Serenade for Strings, and finished the concert with a face-paced and exciting performance of Haydn's Symphony No 44 in E minor.


Did you hear our Ukuleles in concert - twice?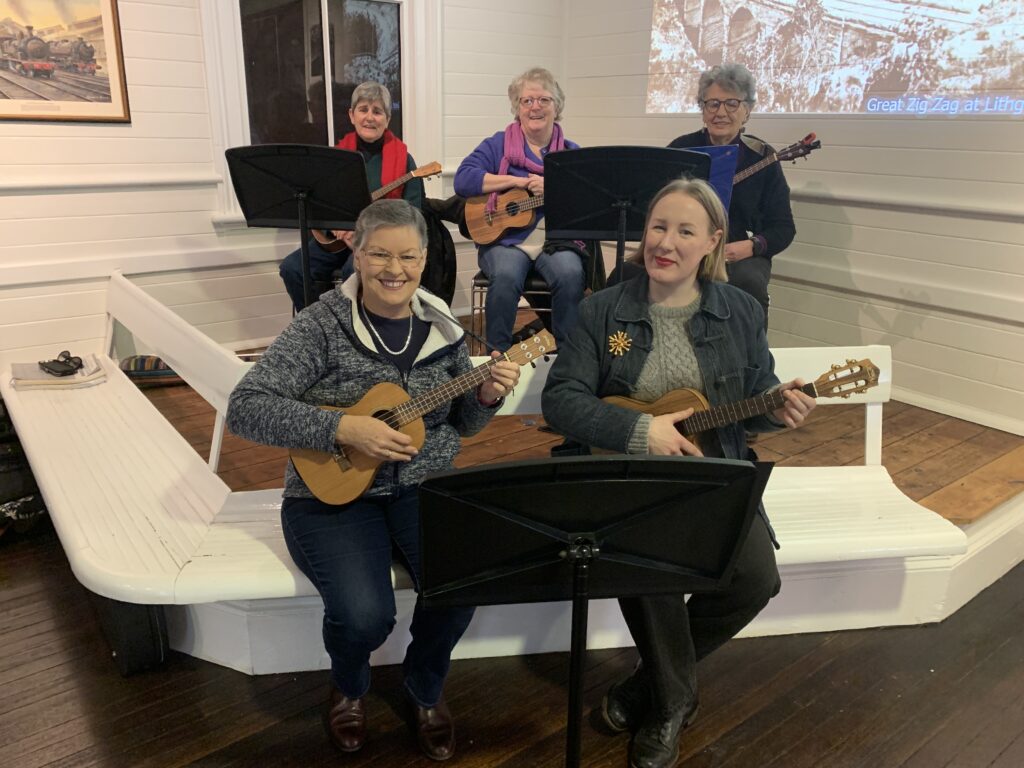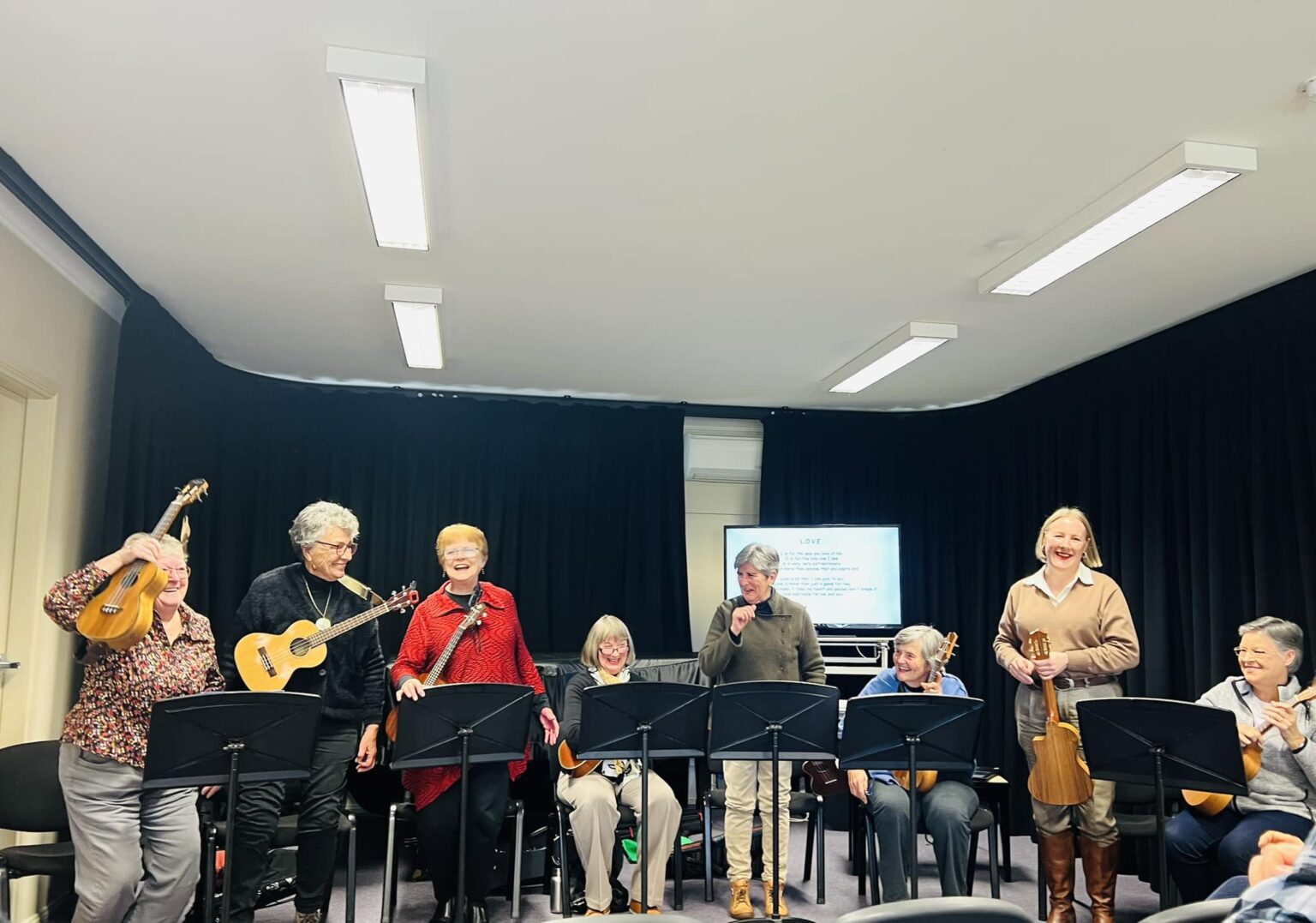 The Conservatorium ukulele group UkeCons is staving off the winter cold by keeping busy!
As part of the Bathurst Winter Festival, on Sunday 9 July the group kept themselves and the audience warm by playing some hot jazz at the Bathurst Railway Museum. Everyone present enjoyed the music-making, the beautiful acoustic of the historical venue and its excellent central heating!
Less than two weeks previously, UkeCons presented a free singalong concert for everyone to come and enjoy at the MitCon studios in Havannah Street. Director Michelle Griffin had everyone clapping along and singing the tunes – even our office staff got involved!

 Don't miss all the news – click the buttons below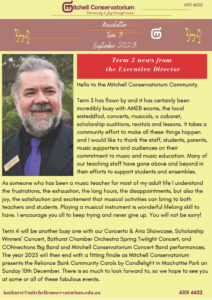 Big Band Blast lives up to its name
The Bathurst region Big Band Blast Festival opened on 26 May 2023 and MitCon CONnections Big Band was in the thick of it right from the very beginning. After a huge day of setting the stages and working alongside musical legends Jackie Cooper and John Morrison, CONnections members took to the stage with a performance that showcased everything from the talent of MitCon teachers and adult students right through to how much fun a performance can actually be!
A highlight for many participants was the rhythm section workshop on 28 May run by MitCon Executive Director Andrew Smith which 80 people attended. In fact, hundreds of big band and jazz enthusiasts from all over NSW attended the three-day spectacular, and support for a repeat in 2024 is strong!

Bathurst Chamber Orchestra performs music by Vivaldi, J.S. Bach and others with the Allegri Singers at Lithgow and Bathurst
All in all, nearly 160 people attended two concerts by the Bathurst Chamber Orchestra and the Allegri Singers on the weekend of 6-7 May 2023 despite very wintery weather. The first concert was presented at Hoskins Memorial Uniting Church in Lithgow, the second at Bathurst Uniting Church.
The program included the famous Vivaldi "Gloria", with William Moxey conducting, soloists Bethany Carter-Sherlock (soprano) and Amelia Bland (mezzo-soprano), the Allegri Singers, and the Bathurst Chamber Orchestra, the latter led by violinist Nicole Hammill.
Vivaldi's musical genius was also on display with a spirited rendition of the Concerto in C for Two Trumpets, with MitCon teacher David Hood and MitCon associate teacher Laykus Woods as trumpet soloists.
The audience was also treated to three pieces sang by the Allegri Singers: Gerald Finzi's "Feat no more the heat o' the sun", Tomas Luis de Victoria's "O Magnam Mysterium", and American composer Frank Ticheli's moving "Earth Song". Luke Moxey ably accompanied.
Flautist Emma Knott featured in J.S Bach's Suite No 2 in B Minor, BWV 1067, with the orchestra led by Dr Nicole Hammill.
Photographs from the 6-7 May 2023 Bathurst Chamber Orchestra concert

Strong MitCon representation at inaugural Bathurst Performance Exchange, Keystone 1889, 30 April 2023
On Sunday 30 April 2023 Mitchell Conservatorium vocal students joined by Conservatorium singing and piano teacher Michelle Griffin took to the stage at the inaugural Bathurst Performance Exchange at Keystone 1889, Keppel Street, Bathurst. This was an opportunity to showcase local talent and to perform and promote upcoming shows in a friendly and relaxed setting.
The Conservatorium students got to close out the show and brought down the house with rousing performance numbers from the Con's two upcoming Cabaret evenings on 21 & 22 July 2023 at Keystone.
Enjoy these photographs taken on the day!

CONnections, Concert Band, Mitchell Young Voices & Vox at the Festival of Bells, 29 April

Bathurst Chamber Orchestra performs Bach, Handel, Rimsky-Korsakov and others at Palm Sunday Concert at Bathurst Uniting Church
Threatening rain did not stop a crowd of more than 50 people attending the Bathurst Chamber Orchestra's Easter concert on Sunday 2nd April at Bathurst Uniting Church. 
The acoustic and atmosphere of the church provided a wonderful venue for the gorgeous sounds of a string orchestra and solo flute, the latter played beautifully by former MitCon teacher Emma Knott. 
It would be hard to pick a highlight from the varied program presented by the players, but if one were to have a go, it might be the moving spiritual "Were you there?", or perhaps the justly famous and well-loved Suite No 2 in B minor by J.S. Bach, with its sonorous string textures blending beautifully with the solo flute. 
Although Baroque music is always a favourite with both players and audiences, the inclusion of "Were you there?" in addition to excerpts from Haydn's moving "Seven Last Words of Christ on the Cross" and an arrangement of the rousing Russian Easter Overture by Nikolai Rimsky-Korsakov provided a wonderful contrast of tone and mood. And the orchestra delighted the audience with an encore of an arrangement of the famous Beatles song, "Lady Madonna".
The orchestra, directed and led by Nicole Hammill, included Conservatorium staff members Nicholas Newell on violin and Robyn Godfrey on cello. On the whole, though, it was very much a student affair, and all players, young and less young, experienced and not so experienced, rose to the occasion and provided an exciting and satisfying afternoon's music. And the program was given direction and context by the knowledgeable and erudite MC Monica Morse.
Photographs and videos from the BCO Easter Concert
Click on the video to hear the Bathurst Chamber Orchestra play "Were you there?" at the 2 April 2023 concert.
Click on the video to hear the Bathurst Chamber Orchestra play the Sarabande from J.S. Bach's "Suite No 2 in B minor" with Emma Knott as flute soloist.

Congratulations to MitCon singing teacher Alyson Laver who was a finalist in the 2023 Bathurst Regional Songwriting Competition. Alyson performed her song, Four Walls, to a capacity and enthusiastic audience at a gala event at Keystone 1889 on 23 February 2023, with a fabulous six-piece backing band. We hope to hear more songs from Alyson over the coming year!